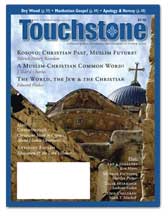 In the latest Touchstone Magazine Daniel Boerman wrote a sweet article entitled "When the Wood is Dry."  The following excerpt was most edifying:
There is . . . a gospel for sufferers.  Jesus not only suffered in our place; he also suffered as an example for us to follow.  He warns us that obedience in a sinful and fallen world will not be easy.  The world does not appreciate or applaud faithful discipleship.  Living selflessly and loving as we serve God and others will sometimes expose us to serious pain.  And sometimes God may compel us to share in some of the forsakenness and bitterness that Jesus himself experienced.

[God's silence] is a blessing because it enables me to share just a little of what it meant for Christ to be utterly abandoned by God and man when he was hanging on the cross.  I know something of the desperation and exasperation he felt when he uttered that despairing cry, "My God, my God, why have you forsaken me?" (Matt 27:46).  I realize that my experience was only a tiny taste of the suffering of Christ, but it is nevertheless real.  I count it a privilege and and honor.
Our suffering is a means of God's grace to remind us about the ineffable glory of the cross and the assurance of our sonship.  Affliction is not necessary for who we are or are not, but who we're going to be.  After the glorious declaration of Jesus' God-pleasing sonship at his baptism (Mt 3.17), Satan immediately questioned that sonship.  Jesus is led into the wilderness where Satan prefaced his tempations with, "If you are the Son of God then . . ." (Mt 4.3, 6). In other words, suffering is unbecoming of God's Son with whom he is well pleased.  Is this the way God treats his beloved Son?
It is certainly the way God must treat sinners.  And if that Son is to become sin for us (2 Cor 5.21) then, yes, it's the way he must treat his Son (cf. Heb 5.8).  If any son of Adam is to enjoy heaven then the Son of God must suffer hell.
It's as though God says to his suffering child, "This really hurts, doesn't it?  Could you suffer it forever?  Could you suffer it million times worse? Could you suffer it a million times worse for the sake of your enemies?  How would you feel toward someone who suffered such pain on your behalf?  That's what I did for you, child, so suffer well knowing it's as close to hell you will ever get."  Paul expressed it this way:  "For one will hardly die for a righteous man; though perhaps for the good man someone would dare even to die.  But God demonstrates His own love toward us, in that while we were yet sinners, Christ died for us" (Rom 5.7-8).
Within hours of his passion Jesus prayed, "Father, I desire that they also, whom you have given me, be with me where I am, so that they may see my glory which you have given me, for you loved me before the foundation of the world" (Jn 17.24).  Jesus prayed that if he did all the suffering then his enemies-turned-brothers should share in all his pre-existent glory and Trinitarian love.  And Jesus always gets what he prays for.